Lindelof joins Drama Summit West line-up
Damon Lindelof, the prolific showrunner, producer and film screenwriter behind cult series The Leftovers and Lost, is the latest high-profile speaker to join the line-up at Drama Summit West, which takes place in LA on May 19.
You can see the full line-up and register online by CLICKING HERE.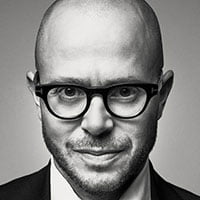 Lindelof will front a showrunner keynote Q&A at the event, discussing the third and final season of the critically acclaimed HBO series The Leftovers, his current work and his approach to the craft. The session will be chaired by The LA Times television and entertainment writer Libby Hill.
As well as TV work on Lost with JJ Abrams, Lindelof has also served as as a writer and producer on a number of science fiction films, including Ridley Scott's Prometheus, World War Z, Star Trek, Star Trek Into Darkness and Tomorrowland.
Elsewhere at Drama Summit West, a high-profile showrunner panel forms part of the creative line-up featuring Marti Noxon (Sharp Objects, Unreal), Ilene Chaiken (Empire, The Handmaid's Tale), Courtney Kemp (Power), Naren Shankar (The Expanse) and John Wirth (Hap & Leonard, Hell on Wheels). This panel sees the writer-producers discuss their evolving role and how they are creating, writing, developing and producing stories in new ways to meet audience and channel demands.
Delegates will also learn about the programming priorities for the top programming chiefs at AMC, Showtime, Starz and TNT at the event and how they are working with the international market, in a cable superpanel. The programming chiefs will also discuss challenges in the market and provide a sneak peak into some of 2017's hottest new dramas, which they have commissioned, including Twin Peaks, American Gods, The Alienist and The Son.
Streaming giant Netflix also hosts a session at the event on its global coproduction and international originals strategy. This will be fronted by Elizabeth Bradley, VP of content, and Erik Barmack, VP of international originals, respectively. They will discuss how they are using Netflix multimillion-pound content budget to boost its library with original home-grown content in the 130-plus territories it now serves, as well as work with international partners on global coproductions.
British TV executive and former BBC drama chief Ben Stephenson will take part in a Next-Generation Producers panel, discussing his latest role as head of television at JJ Abrams' Bad Robot. He is joined by The Night Manager producer The Ink Factory's co-CEO Stephen Cornwell, American Crime Story producer Color Force's senior VP television Nellie Reed and Anonymous Content's Rosalie Swedlin, who's latest projects include Caleb Carr adaptation The Alienist and The Wife, starring Glenn Close and Christian Slater.
The panel will discuss how some of the US's hottest independent studios and seasoned producers are developing, producing and packaging next-generation drama, defining new models akin to the feature film world, finding new stories in a saturated market and working with creatives and writers.
A special focus on the Latin American market also forms part of the event. Execs from HBO Latin America, Globo, Fox Networks Latin America and Keshet Latin America will discuss the growing ambition for drama in the region, as well as the opportunities in this dynamic market.
Business sessions on coproduction and finance and the big questions in scripted TV also form part of the day with execs from BBC Worldwide, Lionsgate, Eone Entertainment, CAA, WME, Studiocanal TV, All3Media North America and Sonar Entertainment taking part.
The day will close with a networking cocktail party between 6pm and 9pm, organised in association with CAA.
tagged in: Courtney Kemp, Damon Lindelof, Drama Summit West, Empire, Hap & Leonard, HBO, Hell on Wheels, Ilene Chaiken, John Wirth, Libby Hill, Lost, Marti Noxon, Naren Shankar, Power, Sharp Objects, The Expanse, The Handmaid's Tale, The Leftovers, UnREAL