The long way round: Corona Television heads on moving to the small screen
Corona Television's Richard Johns and Rupert Jermyn tell DQ how a lengthy drive laid the foundations for their move from cinema to the small screen – and insist they haven't looked in the rear-view mirror since.

Long car journeys are often noted as the cause of arguments, or they can be filled by tedious periods of bored silence as unremarkable countryside flashes past the windows.
But in the case of film producers Richard Johns and Rupert Jermyn (pictured left to right above), a four-and-a-half-hour trip across England was the moment the pair decided to set their sights on television.
The subject of conversation was Wilbur Smith's adventure novel Birds of Prey, and by the time the duo arrived in London from a Newcastle film set, Corona Television was born.
Jermyn recalls: "We started talking about the Wilbur Smith books and by the time we reached London we realised you can't make books like that into films. There's too much plot, too much fun. We got in touch with Wilbur, and it turned out we were the first ones to say to him we should do TV, not film.
"That's probably what kick-started Corona Television. It was a light-bulb moment when we said we watch more television than film. It was a very organic car journey."
Birds of Prey, which is being adapted by JJ Connolly (Layer Cake), is one of a number of properties on Corona's burgeoning television slate. The story, set in 1667, follows a host of characters on the high seas, set against the backdrop of the naval war between the Dutch and the English.
Corona has also partnered with Stephen Kay (Covert Affairs, Sons of Anarchy) for romance/action drama The Fight. Written and directed by Kay and starring Piper Perabo (who is also Kay's wife), it follows a conflict photographer and a journalist as they journey across continents and risk their lives to bring back pictures and stories that might change the world.
"We're led by good stories, whether it's from a book, an article or an idea we have," Jermyn says. "With the Wilbur Smith novels, we have three books of 700 pages each. We could go on for 15 seasons."
Johns adds: "Nobody had realised there are investable characters at the heart of his books. That's one of the reasons they're page-turners. There's also this episodic, cliffhanger end to each chapter, which is the way he constructed them. For us they leant themselves very naturally to returnable episodic series television."
From working as a brand manager to making commercials and then television, Johns broke into the film industry with 1998 feature Killing Time. It was while making Dangerous Parking (2007) that he first met Jermyn, whose background was in mergers and acquisitions and who was building an equity fund for feature films when the pair first crossed paths.
In 2009, they formed Corona Pictures and made two features back to back. The second of these was the Tim Roth-starring The Liability (2012), which was shot in Newcastle and led to the car journey that catapulted them into the television industry.
Johns and Jermyn took their plans to adapt Birds of Prey, the first novel in Wilbur Smith's Courtney trilogy, to FremantleMedia, as Sarah Doole, a former BBC Worldwide executive they knew, had joined the production company to spearhead its move into global television drama.
Jermyn says: "We also started developing one or two other things and it became obvious the relationship with Fremantle was working really well. At that point we started having a corporate conversation about how to solidify it and move forward. It's a really cool partnership and the ambition we have is matched very equally by Fremantle's ambition to tell big, cinematic and noisy stories. 'Every episode is a movie' is our unofficial tag line because that's the TV we watch and the TV we want to make."
FremantleMedia International came on board to distribute the series, and the two companies' partnership was solidified further in January this year when Fremantle bought a 25% stake in Corona Television as part of a first-look deal.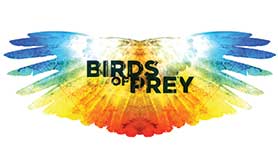 "At this stage, FremantleMedia is a minority stakeholder," says Johns. "We're still at an early stage in our partnership but it has allowed us to rapidly consolidate developed projects and bring in new ones, so the quality and advancement of our slate has gone up tenfold since January.
"There are two or three shows that are closest to getting across the line, so in 2016 we're looking forward to being at the coalface on more than one programme."
Johns says Corona approaches its TV projects from the same cinematic angle as its feature films, which means telling stories with global appeal for a worldwide audience.
"We don't want stories that resonate with the audience of just one particular territory," he explains. "Everything we make has an international market; our stories will travel across borders. Therefore, the stories we tell, the books we option, the scripts we bring on board and our writers all share that ambition, as do the casts and directors, and the coproducers we bring together.
"All those things add up to a global outlook, which is another reason why we have such a close strategic fit with the global drama department at Fremantle. It is a global conglomerate but it's got the hunger in the scripted space of an ambitious indie like us, so it always felt like a very good fit."
Another area of expertise Jermyn and Johns hope to bring from their filmmaking experience to their television projects is financing – or, more specifically, coproduction. While the global television market continues to shrink as partners link up across borders, this is already a common occurrence in film.
Johns says: "Having come from international filmmaking, we're used to coproductions. It's second nature for us to look at a finance plan where there are up to four, five or six different financial parts. When it comes to bringing in coproducers who will bring in a talent element or a piece of finance, we're adept at putting those deals together. It's something we actively look out for."
Furthermore, Jermyn says that while independent filmmakers can be a "slave to equity" as they seek the money needed to get their productions off the ground, building a television budget is a more collaborative process.
"If you don't find your equity, you don't make your movie. And if you do find your equity, it will rule the roost and tell you what you can and can't do," he admits. "TV is much more collaborative; you find your partners and broadcast partners. We have Fremantle, which can, for the right deal, bring some deficit funding. But more importantly it has a global distribution network. So it's a shortcut to the market. That makes a huge difference to us.
"You have to collaborate. It's better to own a little bit of something that does get made than a lot of something that doesn't."
Speaking of collaboration, in August this year Corona teamed up with British writing duo Laurence Marks and Maurice Gran in a new joint venture called LocomoTV, which aims to create original scripted programming for international audiences.
LocomoTV is also supported by FremantleMedia, which has a first-look distribution deal for any of their new programmes.
Corona Television's co-founders both enjoy epic, cinematic television – citing series including Mad Men and True Detective – and say their aim is to make the sort of "big, bold" series they like to watch.
Pointing to Hollywood directors David Fincher and Martin Scorsese, who have been heavily involved in House of Cards and Boardwalk Empire respectively, Johns explains: "There used to be a Great Wall of China between film and television. People would not cross between the two. People in film used to look down their noses at TV. But now it's really flipped the other way.
"It's been a gradual process of subscription television delivered by different mediums combining to make TV the most exciting place to be, where people can do bold, creative work and spend a lot of money at the same time, which you can't really do in movies. As long as you've got a sustainable story and investable characters, you're then annualising that big expense over a long period of time. The economics have changed and it's become a real golden age of television drama."
Corona aims to take its first projects into production in 2016. By that time, Birds of Prey will have been in development for several years. But beyond a cross-country drive, how do Jermyn and Johns decide what material to push along the development pipeline?
"The very first person we have to pitch it to is each other," Johns reveals. "We have a rigorous, robust process. But we both have to passionately, genuinely agree on something before we take it to any of our team or out-of-house. We both have to feel we want to watch it, but certainly we both have to believe in it to the extent that we can sell it and there's an audience for it. So there's got to be a business case but there's got to be a personal element to it too."
Jermyn adds: "You've got to live with it for years. The decision to take something into development is a big one. If you're successful, you could be living with a story for 10 years – so if you don't like it, don't do it.
"It's about breaking down stories and making sure you have something people love as well. It's about treating every single project as a brand new company. You build it from there and hopefully you've got a good enough project that will get made and then taken to market. It really is that methodical.
"It's very similar to film, except that you have more people you can approach and more partners you can bring in. Ironically, what makes the most money in independent film is television sales, so all we're doing is skipping out the middle bit and working directly with broadcast partners. We still love film but we're translating that very much more into television."
As global television drama continues to edge closer towards the big budgets, epic scale and cinematic qualities of the movie business, Jermyn and Johns are well placed to bring their filmmaking skills to the small screen and ensure Corona Television is one to watch.
tagged in: Birds of Prey, Corona Television, FremantleMedia International, Laurence Marks, LocomoTV, Maurice Gran, Richard Johns, Rupert Jermyn