The Durrells delight on Sunday night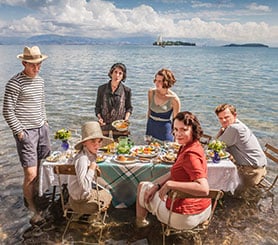 These days, a lot of emphasis is placed on the audience's ability to time-shift TV. But there's no question there is still an important role for dramas that can do a job in a particular slot.
Right now, for example, The Durrells (based on Gerald Durrell's classic Corfu Trilogy of novels) is doing a brilliant job for ITV in the UK at 20.00 on Sunday evenings.
Although the show is only three episodes old at time of writing, it already feels like it has been sitting in ITV's schedule forever – offering exactly the kind of escapism many of us crave the day before the working week kicks in again (depending, of course, on the country where you reside).
Not that The Durrells should be regarded simply as popcorn TV. It is beautifully adapted by Simon Nye and the acting is really, really good. Keeley Hawes, who plays the mother (Louisa) of author Lawrence Durrell, naturalist Gerald Durrell and their two siblings, is superb, displaying immaculate comic timing and eye-watering sensitivity. Also impressive is Daisy Waterstone as Gerald's sister, Margo (none of which is to disparage the other cast members).
The show is currently scoring a rating of 8.0 on IMDb, which is pretty good – and it is proving popular with critics. Gerard O'Donovan in The Telegraph applauds it for its "warmth, nostalgia, beautiful locations" and calls it a "gem." Christopher Stevens in The Daily Mail gives it five stars, adding: "Perfect Sunday night viewing requires period costume, exotic locations, a dash of sex (but nothing explicit) and lashings of laughs. Sounds simple on paper… but it's pretty near impossible to achieve on screen. But The Durrells was a masterclass in ideal Sunday telly – never too demanding, and yet completely satisfying."
All of this positive feeling is backed by great audience figures. The first episode launched with 6.4 million viewers, making it ITV's best-performing new drama since Cilla in September 2014. It has since consolidated to 8.2 million viewers (33% share) – showing that it is also possible to transfer the Sunday night feeling to other times of the week.
ITV knows it's on to a good thing and has commissioned a second season from producer Sid Gentle Films. Sid Gentle CEO Sally Woodward-Gentle said: "The combination of Gerald Durrell's warm, witty stories and Simon Nye's brilliance at adapting them meant we knew that we had created something special. The reaction has been fantastic and I am delighted we are able to continue the story and reunite the fantastic cast and crew who have become a close-knit 'family' on and off screen."
Filming on season two will take place later this year in Corfu. In other news, the show has been picked up by SVT Sweden, which may have been tempted by the fact that one of the central characters is a hunky Swede called Sven (Ulric von der Esch).
In the US, AMC's Breaking Bad prequel Better Call Saul finished season two on April 18 with a season average of 2.16 million viewers across 10 episodes. The show stayed pretty solid around the two million mark for the whole season and has been rewarded with a third season during which Breaking Bad's urbane drug dealer Gus Fring will return.
In terms of comparative performance, the show rates better than Mad Men (which ran for seven seasons) and Hell On Wheels (five). It also has an impressive 8.8 rating on IMDb.
Last week, we looked at the success of John Le Carré adaptation The Night Manager on BBC1 in the UK and asked how it would fare when it switched to AMC in the US. The show has now started airing stateside, where the same-day showing of episode one attracted 0.93 million.
This is a fairly modest opening that suggests it isn't going to make much impact with US audiences. As a comparison, Humans debuted with 1.73 million on AMC after a strong showing on Channel 4 in the UK. It then fell to around the 1.1 million mark for episode two and stayed there for the rest of its run.
In other words, its retrenched position was stronger than The Night Manager's opener. The Night Manager also scored quite low with the 18-49 demographic on its AMC debut.
Of course, a modest US opening shouldn't detract from the quality of the show. It may just be that AMC's audience is attuned to a different style of scripted content.
It's also worth noting that The Night Manager has been sold to networks all around the world. The latest deals for the show include agreements with Chinese streaming service Youku Tudou and French public broadcaster France Télévisions. The drama has previously been sold to the likes of Tele München Gruppe for German-speaking Europe, C More and TV4 for the Nordic territories, DR for Denmark, Sky Italia for Italy, BBC First and SBS for Australia, TV3 for New Zealand and AMC International for Iberia, Eastern Europe, Russia, Asia (excluding Japan), Latin America, Africa and the Middle East.
This week has also seen MTV in the US renew its fantasy series The Shannara Chronicles, despite the fact that the series has not achieved especially high ratings. The first run of 10 episodes came in at about 890,000 on average, with the back end occasionally falling below the 800,000 mark.
Mina Lefevre, executive VP and head of scripted development at MTV, said the production team "delivered a beautiful, ground-breaking show with compelling stories and character journeys, which brought in new viewers."
Further underlining Lefevre's 'new viewer' argument, part of the reason MTV is sticking with the show is its performance on digital platforms, "where it garnered 16.6 million streams across all MTV's digital properties and brought significant traffic growth to the MTV app," according to the company. "The series also ranks as the highest-grossing digital download for a single season on MTV ever."
As we've reported in previous weeks, a number of shows see their performance improve dramatically when time-shifting and digital viewing are added to the total. American Crime Story: The People vs OJ Simpson on FX had a huge three-day ratings gain for its finale episode (up by 2.91 million viewers to 6.18 million).
In the UK, it was a similar story for new Sky1 crime drama Stan Lee's Lucky Man, starring James Nesbitt. Episode one of the 10-part series launched in January and delivered an overnight audience of 600,000. But the total figure for the episode rose to 1.74 million as the audience took the opportunity to watch via Sky+ recordings, On Demand and Sky Go.
This increase of 1.14 million was the biggest growth in viewing figures that the first episode of any Sky original drama series has ever achieved in the week after transmission. It also made it the best performing original drama series launch on Sky1 for nearly four years. This underlines the point that, in the new TV economy, there are some shows that are perfect for certain slots (such as The Durrells) but others seem to work well as schedule-neutral programming.
tagged in: AMC, Better Call Saul, Mina Lefevre, MTV, Sally Woodward-Gentle, Sid Gentle Films, Simon Nye, Sky1, Stan Lee's Lucky Man, SVT, The Durrells, The Night Manager, The Shannara Chronicles