Making his Mark
From Line of Duty and Home Fires to Apple Tree Yard and Unforgotten, actor Mark Bonnar is never far from television screens. He discusses his career, new projects including Porridge and working on Catastrophe.
Under the skills section of his CV, Scottish actor Mark Bonnar lists an unusual talent. "I can juggle," the 48-year-old says while making coffee and checking the baby monitor to see if his son is settling down for his nap. Bonnar is married to fellow actor Lucy Gaskell (Cutting It, Casualty) and the couple have two children.
Multi-tasking is clearly not a problem for Bonnar. He's been quite busy lately, appearing in Channel 4's Bafta-winning sitcom Catastrophe, psychological thriller Apple Tree Yard (pictured top) and cop show New Blood on BBC1, and ITV crime drama Unforgotten. He's also starred in Line of Duty and Psychoville (both BBC2), plus Grantchester and Home Fires (ITV).
Bonnar also began shooting the new season of Shetland last month and has just spent seven weeks on a new six-part season of Porridge for BBC1, written by the show's original creators Dick Clement and Ian La Frenais. The actor reprises the role of Officer Meekie from the pilot, which was screened last year, alongside Kevin Bishop as Nigel 'Fletch' Fletcher, grandson of Ronnie Barker's iconic character Norman Stanley Fletcher.
"It's a lot like the old rep routine where you make it up as you go along," says Bonnar of filming Porridge. "Tuesday night and Wednesday we'd be rehearsing through, then doing tech for the cameras because it's multi-camera, like the old live studio audience thing. Then we'd pre-record all the bits you can't do in front of the audience, and then Thursday there'd usually be another light run."
The Porridge pilot was a "terrifying experience," he admits. "I haven't been on stage for five years. The Old Vic was the last time. This was completely new to me and I wasn't sure how to pitch it but I watched Kevin [Bishop] very closely and he's a past master at this sort of thing. He started mucking around quite early on in front of the audience and they loved that."
Coronation Street and Phoenix Nights star Ted Robbins was the warm up.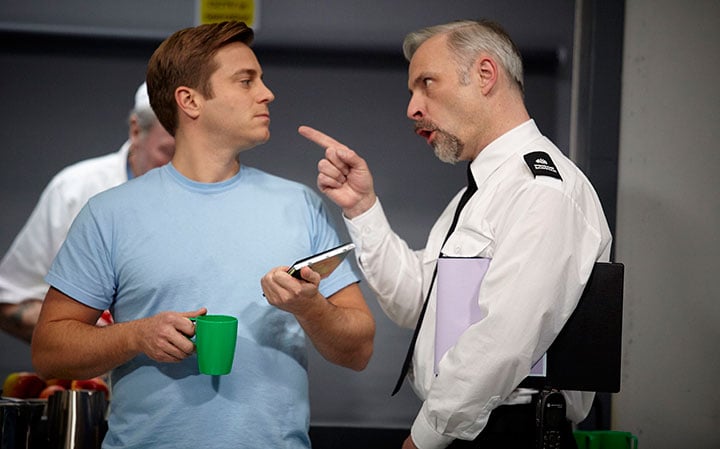 "He really takes the audience through the story, because there are big gaps between the setups so they've got a lot to remember," says Bonnar. "Ted's got a gazillion jokes but also, before we start on the next scene, he'll say, 'Now, remember what's just happened in the scene before?' so they're with us, and that's invaluable."
Porridge is up there with Dad's Army as one of British TV's national treasures and, in portraying Officer Meekie, Bonnar follows in the footsteps of the great Fulton Mackay.
The actor says the script and certain mannerisms of his character are done in tribute to Mackay. "It would be churlish to try to completely reinvent the character. The physical aspect of Meekie is the thing that probably informs the character. It's not great naturalism. It's heightened comedy.
"The first thing I did when I was in Fletcher's cell was move like a flamingo or a bird of prey. The physicality informs me a lot. You kind of rely on that and work from the outside in. I haven't gone away and thought about where he's from or what his favourite colour is; that would be pointless. When you're doing your lines, you stand up tall, because he is a tall character, and you move your head – it's quite birdlike."
When it comes to learning lines for TV drama, Bonnar has a distinctive approach. "I record the scene with gaps for my bits, that's how I've always done it. If I haven't got the time to record, I will learn the lines, but I like hearing everybody else's words and my cues. It's like having a rehearsal in your head every time."
He recalls making his first 'live' recording at the age of 10. "My granddad had an old tape recorder and I went off to a room somewhere and recorded a radio show. It's me doing all the 'Hey, this is Mark Bonnar and welcome to my show' rubbish, but I sang all the songs as well. There's me singing Blondie and Ian Dury, and I thought, 'Yes, I even had cool music taste back then.'"
Bonnar won a school prize for drama aged 12 in a show called Hooray for Hollywood. "It was a kind of a mishmash of songs and sketches. I remember donning a massive moustache for a scene from Murder in the Red Barn."
He left school at 17 and worked for the library service and in the planning department at Edinburgh City Council, where colleagues persuaded him to pursue a career in drama. He completed a year's National Certificate in drama at Telford College, followed by three years at Glasgow's Royal Scottish Academy of Music and Drama. In his final year, he won the Carlton Hobbs BBC Radio Award, which gave him a six-month stint with BBC Radio in London.
"I did 50 plays – everything from playing the orangutan killer in Murders in the Rue Morgue to the mouse in Alice in Wonderland.
"I love radio. As a listener it's the most imaginative form because it's all in your head. As an actor you can just really concentrate on delivering the story right into someone's ear."
Bonnar has a long list of credits including everything from Rebus, Silent Witness and Taggart to Casualty, Midsomer Murders and The Bill. He says he rarely turned down a job in the first 10 years of his career.
"You do whatever comes really. I occasionally turned stuff down because I wanted to feel like I was progressing in each job. The only power you have as an actor is to say no and yes. I think I said no a lot less in the early days because I was hungry for work; now I'm still hungry for work but there has to be something that really makes me want to do it.
"I've played quite a few psychotics, people who are deranged or twisted, and I enjoyed that –they were the most fun to play. But if something comes my way, there has to be a new take or slant or something about the character that appeals, that hasn't been done before or is shown in a new way or the story is amazing.
"Apple Tree Yard was another brilliant step in a new direction because I hadn't played somebody like him before. [Protagonist Emily's husband] Gary is a slow-build character. He's undemonstrative, he's kind of in here," Bonnar says, pointing to his chest. "There's no 'tits and teeth.' People usually give me tits-and-teeth parts but it was great to play someone I haven't done before who isn't vindictive, who hasn't a nasty streak. He's just a flawed human being, as we all are."
Catastrophe stars and writers Rob Delaney and Sharon Horgan deal a lot with flawed humanity in their hit comedy, which recently aired its third series with a fourth planned.
Bonnar, who plays Chris, says it's always "a joyous experience," working on the show. "What [Horgan and Delaney] do is push everything to the degree where you go, 'Oh Christ, I remember feeling like that.' It's so beautifully crafted, structurally but also dramatically. They've got an amazing talent and ability to make you cry and snort wine back into your glass at exactly the same time. The comedy and the familiarity of it, it's perfectly human.
"There's an atmosphere with Catastrophe of generous concentration because it's a serious business getting it right. Rob and Sharon have said this and on set they're quite prescriptive about what they write because what they write is brilliant and so they very rarely allow any improvisation. Now and again you can slip something in but you wouldn't want to, it's like gilding a lily."
tagged in: Apple Tree Yard, Catastrophe, Line of Duty, Mark Bonnar, Unforgotten