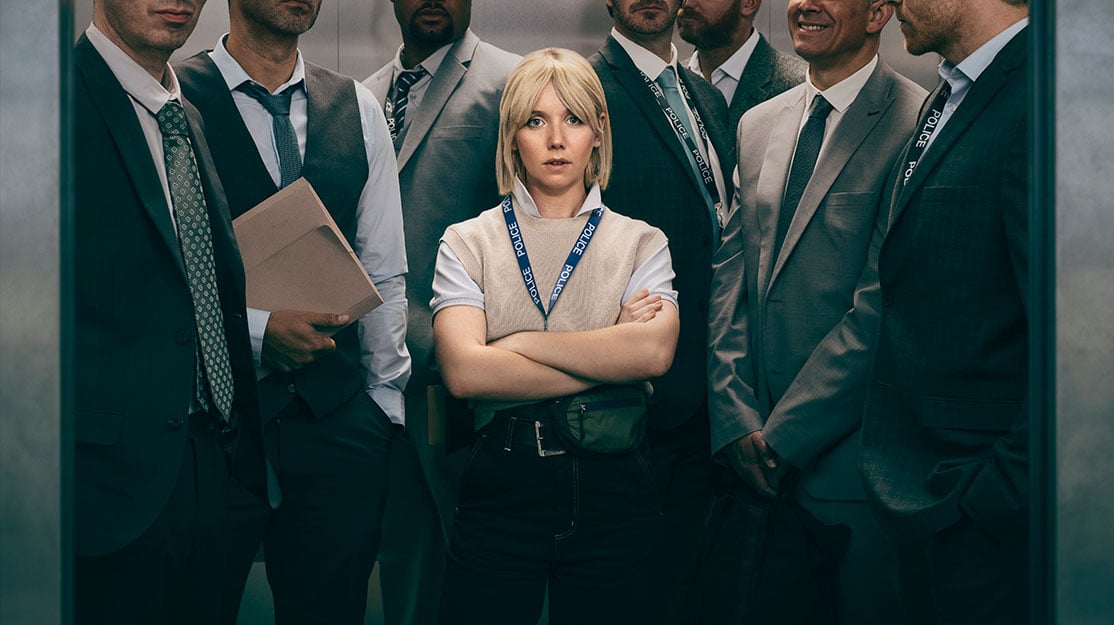 Caring about Karen
As Karen Pirie becomes the latest detective to join the ranks at ITV, DQ interrogates series creator and writer Emer Kenny about adapting Val McDermid's novels, her own starring role and being inspired by Lennie James.
From Vera and Endeavour to Grace and Ridley, there's no doubt that UK broadcaster ITV is the home of detective dramas. That fact was also apparent to Emer Kenny – a writer and actor known for roles in Pramface, Father Brown and The Curse – when she pitched the idea behind Karen Pirie, the latest cop show to join the channel's ranks.
Based on the character created by Val McDermid, with a story drawn from her 2003 novel The Distant Echo, the three-part series introduces Karen, a young and fearless Scottish detective who is tasked with reopening an historic murder investigation after it becomes the subject of a provocative podcast.
"I was very aware of writing for ITV, which has a lot of crime shows, and I was also very aware of adapting Val McDermid, who is the Scottish queen of crime," Kenny tells DQ. "And I was really aware of making this show feel really cool, new and fresh in 2022. It was important to me for it to feel unique.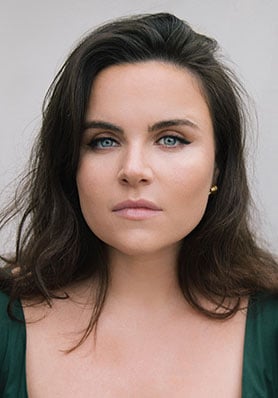 "We've seen a lot of detectives who are fighting demons, who are going through divorces and have drinking problems and gambling addictions or are going through grief and loss. That's become a bit of a trope sometimes, but the thing I loved about Karen was that she's very young – I can't really think of another detective on screen that is in their 20s – and the big battle that she has isn't some kind of dark past. It's that she's fighting to prove herself and show who she is in a male-dominated environment and a place where she's massively underestimated. I really related to that."
The cold case Karen must investigate is the 1996 murder of teenager Rosie Duff (Anna Russell-Martin) in the Scottish university town of St Andrews. Suspicion quickly fell onto three students who were discovered at the scene – Sigmund 'Ziggy' Malkiewicz (Jhon Lumsden) Tom 'Weird' Mackie (Jack Hesketh) and Alex Gilbey (Buom Tihngang) – and claimed to have found her body. But with a lack of evidence, no charges were brought and the police investigation petered out.
Twenty-five years on, someone is trying to keep secrets from that night hidden, but do the three men know more than they admit? How flawed was the original investigation, and can Karen uncover the truth about what happened to Rosie?
The show, which begins this Sunday, is split into two timelines, with one following the aftermath of Rosie's murder in 1996 and the other unfolding in the present as Karen (Lauren Lyle) investigates. It's quickly clear that her superiors are not willing to support her every move, while things are complicated further when a new murder investigation is launched as a result of events at the end of episode one, "so the stakes for her to solve the old case rise a lot," Kenny says.
"There's also a true crime podcast about the case, so there's a race for her to finish the case before the podcaster gets hold of any of the information. There's a lot of pressure on her that builds through the series, and then she has a lot of resistance from her older male bosses, who don't think she's got the chops to do it, and she breaks some rules and pisses them off. Everything gets a little bit sticky for her."
While Karen doesn't have the most prominent role in The Distant Echo, Kenny has put the character front and centre in her adaptation of the novel, which is also different from the show in that its cold case is from longer ago, in the 1970s. Further changes include a character gender swap, as well as a "massive plot change" that may surprise those who have read the book.
The role of the podcaster, Bel Richmond, played by Rakhee Thakrar, is another modern twist, while the series also tackles themes of positive discrimination when it emerges that Karen was allowed to lead the case because she's a woman. "Hopefully that feels quite relevant to our times as well," Kenny says.
An actor and writer for more than 15 years, Kenny says she first turned to writing when she became frustrated by the kinds of parts she was being offered. "Being a young woman around 2008/9, it was a lot of nudity, it was a lot of tropey, sexy, bitchy characters. I just felt frustrated by it," she says.
She has since collected writing credits on EastEnders, Red Rock, Harlots and upcoming Netflix series The Bastard Son & The Devil Himself, but Karen Pirie is her first series as lead writer.
In particular, her work on Save Me – the crime thriller created, written by and starring Lennie James – had a big impact on the way she now likes to work. "I learnt so much because Lennie, as a creative leader of a show, is a genius and he just had such clarity in his vision. He very much knew that the buck stopped with him in terms of decisions and ideas," she says. "He was so collaborative that you could suggest things, pitch things and try things, but he knew what was right for the show and he would absolutely accept great ideas. It was so relaxing to be working with somebody who knew their own show and their own tone so well."
That meant that when Kenny began writing and producing her own series, she knew she needed to bring similar clarity. As a result, she has been across every creative aspect of Karen Pirie, which is produced by World Productions and distributed by ITV Studios.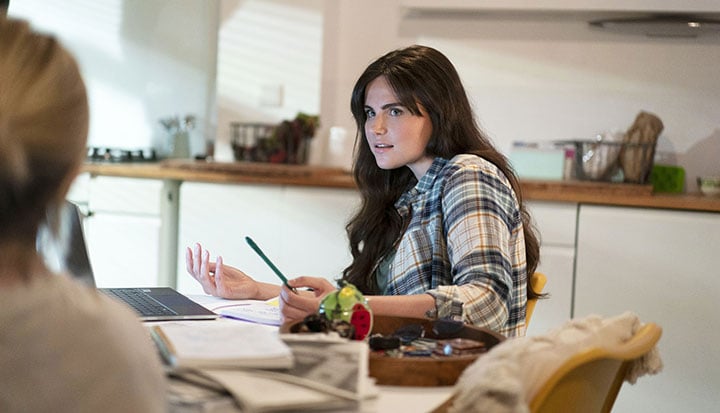 "Everyone has their part of the jigsaw puzzle, but just to have your eye on it brings a cohesion and a clarity that makes the show feel very sure of itself," she says. "That's what Save Me had and what was so successful about it."
It was while Kenny was working on Save Me that World Productions' Simon Heath first sent her McDermid's book and asked what she thought about adapting it for TV. Immediately thinking of several ways it could be brought to the screen, and noting Karen's limited involvement, she said she would do it if she could "remix" it in her own way. Heath agreed, McDermid was supportive and they pitched the idea to ITV.
Before writing the series, which comprises three 120-minute episodes, Kenny read all six novels featuring Karen and jotted down every detail about her and the other regular characters. That then fed into her notes about the show's characters and plot – "but then I threw it all up in the air," she says. "Simon said to me, 'There comes a point when you have to put the book away and just not look at it anymore.' Now it's a TV series, and you have to bring something that feels like it's organic as a TV show. You can't stick to things if they don't work. I threw it all up in the air, saw what landed well and went from there."
With ITV greenlighting the show in April 2020, Kenny spent the Covid lockdown writing the series on her own, a process she says was "the hardest thing I've ever done, just months and months of writing."
With 12 drafts of each script and each one close to 100 pages long, "that's thousands and thousands of pages. It was an immense task," she continues. "I remember calling my mum crying, saying, 'There's no way I can get to the end of this. This is impossible.' And she was just going, 'Hmm, I don't know what to say other than you have to.' I did get there, and that's why it felt so amazing to shoot it. I was there every day on set, I rewrote it the whole way through and I finished my final amendment a week before we ended up wrapping. But writing is rewriting."
Behind the scenes, Kenny partnered with director Gareth Bryn (Line of Duty), who shared her vision for the show, which was filmed in locations across Scotland. She also found common ground with Lyle (Vigil), a relationship that meant Kenny then ended up playing the part of Karen's friend River.
With Lyle leading a show for the first time and a cast populated by a number of up-and-coming actors, "we all had this aim to try to scare ITV a bit and make it feel different," Kenny says. "ITV were actually really great. We were a little bit amazed that we were able to do what we were doing because, for a lot of us, it was our first time with that much control. We were really ambitious with how young and cool we wanted it to feel for an ITV crime show."
With additional books to mine, Kenny says she definitely sees scope for future seasons of Karen Pirie, while she will be back on screen in the second season of Channel 4 crime-comedy The Curse – and even joined the writing team this time around.
"The ambition for the second season is much bigger and bolder and it's really good," she says of The Curse. "I was really nervous because they only knew me as an actor and they hadn't seen any of my writing before. But it was really nice to be in there and have a little bit of influence, particularly on the female characters in that show. Also, it's so fun. It's not like writing Karen Pirie, which is just loads of plot and my head exploding. With them, there's just so much laughter and fun and it's just a very cool show to be involved with."
Her next ambition is to bring her writing and acting together in a bigger way, with a leading role in an original series of her own creation. In the meantime, Karen Pirie "feels like a big step for me in my career to be writing, exec-ing and acting in something," she says. "It's what I've always dreamed of doing."
tagged in: Emer Kenny, ITV, ITV Studios, Karen Pirie, Val McDermid, World Productions