BBC1 drama dominates UK viewing
Amid all the controversy about the future of the BBC's licence fee, it's interesting to note that the UK public broadcaster's flagship channel BBC1 has had a storming start to the year in terms of its scripted content. Whether it's crime, espionage, period or soaps, it's been delivering on every front.
Go back to the very start of January, for example, and BBC1 achieved an audience in excess of 11 million for its much-publicised Sherlock special. This was ably supported by the launch of War & Peace, which debuted to 8.4 million.
War & Peace continued to perform well throughout January and was joined by schedule stalwarts such as Death in Paradise, EastEnders and Silent Witness – all of which racked up audiences in excess of eight million. The latter show topped the ratings in the second week of January with 8.72 million – impressive when you consider it has been running since 1996.
In the week commencing January 11, BBC1 turned the screw on its rivals further still by launching the latest season of Call the Midwife, which immediately went to the top of the charts with 9.88 million.
Supporting it with eight million-plus viewers were Silent Witness, Death in Paradise and EastEnders, with the complex period drama War & Peace holding up well at 6.6 million. Not quite as strong, but still respectable, was the third season of crime series Shetland, which debuted with more than six million.
Late January and early February offered more of the same, but then the week commencing February 8 saw the return of Sally Wainwright's Happy Valley to a massive 8.63 million viewers. Only Call the Midwife scored higher, bringing in 9.6 million.
For the week commencing February 15, BBC1 upped its game again, with the launch of The Night Manager on Sunday evening. While it wasn't able to outscore the much-loved midwives, it did debut with 8.25 million, neck and neck with episode two of Happy Valley. This meant the channel's top five broadcasts were all dramas attracting in excess of 7.5 million viewers (with Shetland still bobbing along nicely at around six million).
The following week, all of the above were rock solid – with The Night Manager actually posting a slight increase to 8.42 million. That in itself is a very impressive achievement, because most dramas shed a million or so after their first episode. By this token, Happy Valley also deserves some credit for managing to keep its second and third episodes well above the eight million mark.
All of the above figures are BARB seven-day data. So we've now moved into territory where the latest figures have not yet been released. Instead, we need to look at BARB overnights (which are subject to change once time-shifted viewing is included).
With this proviso, The Night Manager continues to perform strongly. On Sunday, March 6, for example, it faced tough competition from the launch of Julian Fellowes' new project on ITV, Doctor Thorne, but won convincingly. Around 6.2 million tuned into The Night Manager (overnight score) while 3.8 million opted for Fellowes' Anthony Trollope adaptation.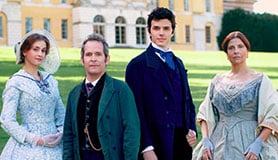 ITV is BBC1's main commercial rival. So how has it been doing across the same period? On the whole, the picture isn't quite as healthy.
Coming into the new year, its ratings were led by its soaps, Coronation Street and Emmerdale, with audiences in the 5.5-7 million range. Behind this came crime dramas Endeavour, Vera and Midsomer Murders which, with audiences of around 5-5.5 million, lag behind Silent Witness.
It's likely to be a similar story for the next few weeks, with Happy Valley's final episode coming up and The Night Manager still good for a few more episodes. It will be interesting to see if BBC1 can sustain its performance through the spring and summer.
In the US, meanwhile, CBS CEO Les Moonves used the Deutsche Bank 2016 Media, Internet and Telecom Conference in Florida to say: "We have five new shows on this year. I believe all five will be renewed, and we own four of them."
This comment has been interpreted to refer to Supergirl, Limitless, Code Black, Life in Pieces and Criminal Minds: Beyond Borders. However, there is some uncertainty because CBS also has a TV reboot of Rush Hour coming up. So either Moonves overlooked that show, or it's already being lined up for the chop – which seems a bit harsh ahead of its actual launch.
In terms of the other five, Supergirl and Limitless were widely expected to get picked up again, as was sitcom Life in Pieces.
Criminal Minds: Beyond Borders doesn't debut until March 16 but, as a spin-off of the popular Criminal Minds franchise, it stands a decent chance of doing well. The show that has, perhaps, dodged a bullet is medical drama Code Black.
With its 18-episode first season now complete, Code Black attracted an average audience of 7.1 million. This isn't terrible but it is undermined by the fact that the show's appeal to 18- to 49-year-olds is at the lower end of the CBS spectrum.
The fact it has survived is probably explained by CBS's need for some classic procedural-style dramas to sit alongside hit series NCIS. If CBS can manage to make Code Black a hit then it will also have a useful asset for its international sales catalogue. The show has already been picked up in the UK by UKTV.
Still in the US, public broadcaster PBS has just given the greenlight to a second season of Mercy Street, its first original drama in more than a decade. A medical series set during the US Civil War, Mercy Street's first season was executive produced by Ridley Scott, David W Zucker, Lisa Q Wolfinger and David Zabel.
The show debuted with an impressive 5.7 million viewers and its six-episode run was streamed two million times. It trended strongly on Twitter on numerous occasions and its website – filled with factual supporting material – has had more than 600,000 unique visitors since its launch.
"We are thrilled with the overwhelmingly positive response to Mercy Street and the return of high-quality American drama on PBS stations," said Beth Hoppe, chief programming officer and general manager of general audience programming at PBS. "We're looking forward to a second season offering more fascinating stories inspired by historical events. The effort from everyone involved, including producers, directors, historical consultants, actors and PBS stations, resulted in an extraordinary series."
Mercy Street's first season took place in the spring of 1862 in Alexandria, Virginia, a border town between north and south and the longest-occupied Confederate city of the war. Ruled under martial law, Alexandria was the central melting pot of the region, filled with civilians, female volunteers, doctors, wounded soldiers from both sides, free black people, enslaved and contraband (escaped slaves living behind Union lines) African Americans, prostitutes, speculators and spies.
The show follows the lives of these characters, who collide at Mansion House, the Green family's luxury hotel, which has been taken over and transformed into a Union Army hospital. Season two picks up directly from the events at the end of the first run's finale.
tagged in: BBC1, Beth Hoppe, Call the Midwife, CBS, Code Black, Death in Paradise, Doctor Thorne, Endeavour, Happy Valley, ITV, Les Moonves, Mercy Street, PBS, Silent Witness, The Night Manager, War and Peace